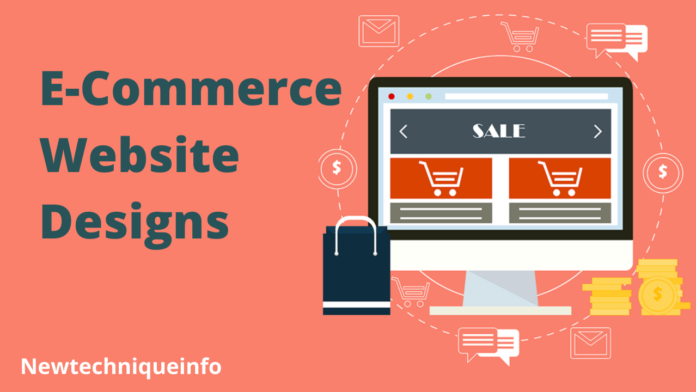 e-Commerce Website Design Has to Be Well Thought Out
ECommerce stands for electronic commerce. The word represents any financial transaction that is conducted using the internet. After the internet was introduced in 1992 to the general masses, companies began to create their websites to sell their goods and services. Today, millions of companies have an online storefront and shopping carts that help them make money online. You can have an online store that sells to the local market or one that will help you import and export goods and services.
You can be a retailer online or a wholesaler. You can also be an agent and get the goods drop-shipped to the clients directly by the manufacturer or distributor and take your commissions. Many people are also using the eCommerce platform to raise money for their projects. These are charities or startups or those who want reduced product costs.Ecommerce also allows for magazines and newspapers to sell subscriptions. You can also sell a digital product online with ease. Thousands of local companies sell music, movies, templates, and software.
Companies like Uber, Lyft, and Easy Taxi are using eCommerce to sell a service.Websites have to be first designed and then the eCommerce functionality has to be added to it so users can make purchases. In the earlier days of the internet, the eCommerce transaction used to take place over the phone and via email. When the new transaction processing platforms came around many companies began to launch their eCommerce websites. These sites were designed to earn more revenue in many ways. They steered shoppers to the most profitable deals. Companies liked to increase their average order value by using innovative ways. They made sites that were more engaging and could get more repeat customers. This helped with boosting the brand. With Google Analytics it became easy for companies to study the conversion funnels.
Also read: What is branding?
Making an eCommerce website involves several steps. You have to use codes, database management systems, and a payment gateway which is always a third party application. Payments are always processed by a third party. By the law, websites need PCI compliance if they want to store credit card information in their databases. So it is better to have a third party process all your payments.
With eCommerce, you can reach the entire world at a very small cost. In the past, companies couldn't grow at such leaps and bounds as they do today. Just think of a new service or product and begin to sell it online. Watch the market and look for new companies that have made it big quick and then you can be their competitor and get a part of their market share by offering lower prices. The companies that entered the market after Uber split their market share.
More people are shopping online these days as they get better pricing and handsome discounts. Everyone likes to save money and they can also save money on gas that they would otherwise spend if they shop at a brick and mortar place. Some eCommerce websites invest a little amount of money on a website development and streamline things with the distributor. They sell goods through descriptions, images, and videos. They do not need a warehouse or a large team to conduct business. Hence their operational expenses are much lower and this is why they can offer lower prices on products they sell online.
With online sales, the large distribution chain can be made shorter and you can have fast order fulfillment as well. Since the websites have a data management system a company can use the information to make sales forecasts more conveniently.
If you want an effective eCommerce website design, you have to find a professional company that has a talented team of designers and developers. Experienced developers will create a modern website that will bring in more prospects. The site has to be impressive and the content also has to be useful and persuasive. This will help you gain the trust of the market. First, you have to decide what type of site you want. If you are a retailer you can choose from business to business (B2B) or a business to consumer (B2C) portal. There are also consumer to consumer (C2C) and consumer to business (C2B) portals that you may want to look into.
These days many consumers are using their mobile phones to make purchases. For them, your eCommerce website design has to be a responsive web design. After you get the site developed you will need to get traffic to it. The company that creates your website can often promote it using its in-house team. Look for a one-window solution and have peace of mind knowing all your work will be done as per your directions.
The SEO team will work towards improving the organic ranking in Google and will also create PPC campaigns. The more you advertise the better chances of sales you will have. Google Ads and Facebook ads work very well. Social media is another way of bringing in traffic. Facebook, Twitter, LinkedIn, Pinterest, and Instagram can bring in tons of traffic to your new website. Shoppers like discounts and promotions so include these in your online marketing strategy.